The new Valorant patch update is almost here with some exciting skins and goodies with their all-new battlepass. The Episode 2 Act-I came in early 2021 with a self-sufficient Duelist Yoru. Balancing it, Riot has come up with a controller from space named Astra.
About Astra: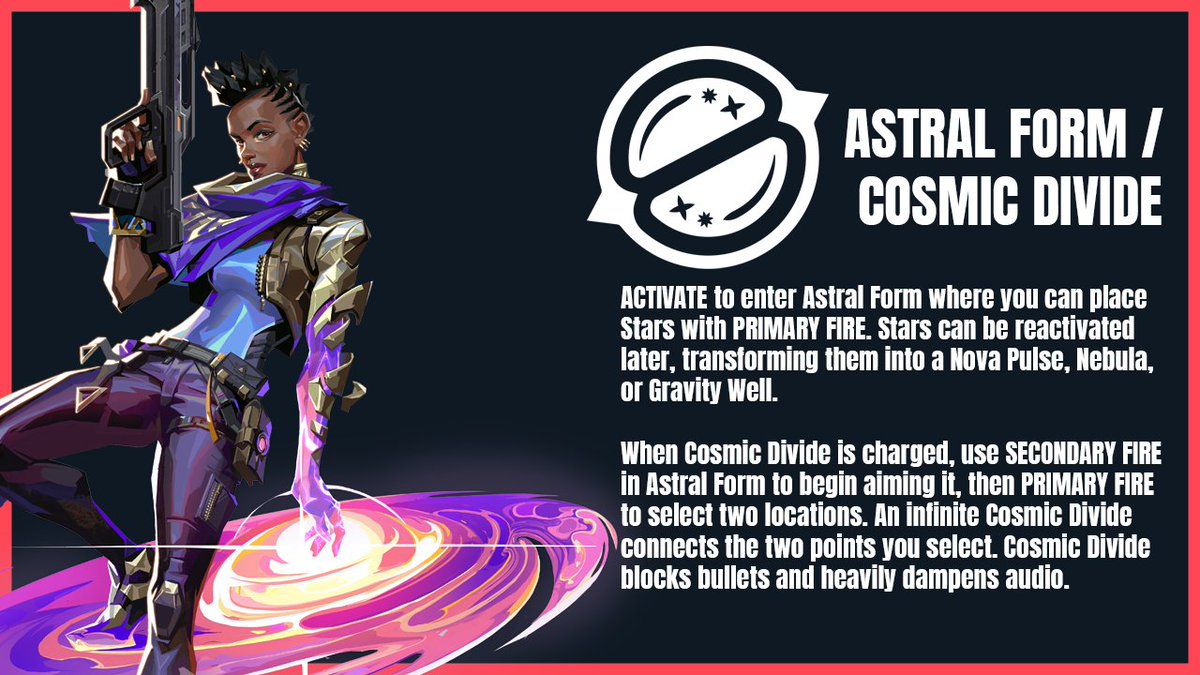 The official character description explains: "Ghanaian Agent Astra harnesses the energies of the cosmos to reshape battlefields to her whim. With full command of her astral form and a talent for deep strategic foresight, she's always eons ahead of her enemy's next move.
And for those interested in Astra's Cosmic Divide ability, Riot Games confirms: "ACTIVATE to enter Astral Form where you can place Stars with PRIMARY FIRE. Stars can be reactivated later, transforming them into a Nova Pulse, Nebula, or Gravity Well.
"When Cosmic Divide is charged, use SECONDARY FIRE in Astral Form to begin aiming at, then PRIMARY FIRE to select two locations. An infinite Cosmic Divide connects the two points you select. Cosmic Divide blocks bullets and heavily dampens audio."
Riot has confirmed that the update will go live on March 2, 2021, at 14:00 PM PST i.e (3:30 AM IST).
There have been major changes in the ranking system which is quite helpful for the betterment of user experience. The rank points and the rank will no longer be lowered at the start of the New Act. The players prevailing the Radiant and Immortal rank will face a reduction of 90% RR points at the beginning of the new Act. Also, all the radiant players will be bumped down to Immortal and have to prove again their best rank according to the gameplay of course. Although you have to play the mandatory 5 placement matches to display your rank again.
However, Radiant is now more challenging to achieve. The player must achieve a certain level of RR points before escalating to Radiant. The points decided varies from region to region based on population size and RR distribution.
Region Requirements for Radiant:
NA & Asia-Pacific = 300 RR Minimum
Latin America & South Korea = 100 RR Minimum
Brazil = 200 RR Minimum
Europe = 400 RR Minimum
Ranks of the players will no longer be displayed during the match but at the end of the game screen.
Tactical voice over inbound
Riot is also looking to improve team coordination and info sharing by adding additional agent VO that will provide context for teammates based on location.
So for players who don't use a mic for team communication, using the generic agent VO such as "Spike spotted" or "enemies spotted" will now include an additional qualifier depending on where it is called on the map. This means pointing out the Spike on B Point will be translated as "Spike spotted B."
"We hope to provide richer information to the player with these changes," Riot said. "Tactical VO is not meant to be a full replacement for voice comms, so callouts will be ducked in volume when a teammate is speaking over VOIP."
You can toggle an option to have those tactical VO messages appear in chat for continued reference, meaning instead of just hearing it, you can also see it as "Sova spotted an enemy in B."
As it rolls out, tactical VO will not be available in all modes, can be fully disabled, and chat messages for callouts can be enabled in the Accessibility options.
BattlePass:
This Act's Battlepass will surely lure a large number of players to invest blindly in it. It consists of Cavalier, Prism III, and Polyfrog themed weapon skins including the banners, buddies, and sprays. The most important factor in the pass is the Prism III Axe as a melee weapon which is so far the best melee loadout in the battlepass. As usual, there would be 120 Radiante points in it. The Battlepass is fixed for 1000 VP.
Prime 2.0
Coming forward, there has been an official update from Riot Games for Prime 2.0 Featured Skins. It will include loadout for Odin (1775VP) Phantom (1775VP) Frenzy (1775VP) Bucky (1775VP) Karambit (3550VP). BUNDLE PRICE: 7100VP. Also included are a Player card, Buddy, and a Spray.
In conclusion, this Act gonna be super exciting for all the players, so keep all heads up and get ready to boom this act with overpowered gameplay. Schedule a reminder for 14:00 AM PST / 3:30 AM IST. GLHF 😀