This article will help the so-called 'rich people' invest in Counter-Strike: Global Offensive to invest in the visual perks- Weapon skins. There are many users/players out there who are ready to spend their whole wallet on this game because of its exquisite nature of skins available. It is quite a feast to their eyes when it comes to this. Let us enlighten everyone reading this article to get their hands on the best high-end appealing CS: GO skins out there.
1. AK-47
Of course, we are going to start with this weapon- it's the most popular weapon in the whole game so why not?
The exquisite and most expensive skin in this section is quite a feast to anyone's eyes. It has a green primary color where a lotus is also added to give it a refreshing look. Currently, on the steam market, it's only available in 3 listings, each starting from $1350. And that's the only way to get it, apart from match drops. It's not even available in cases. But in my opinion, it's quite overpriced.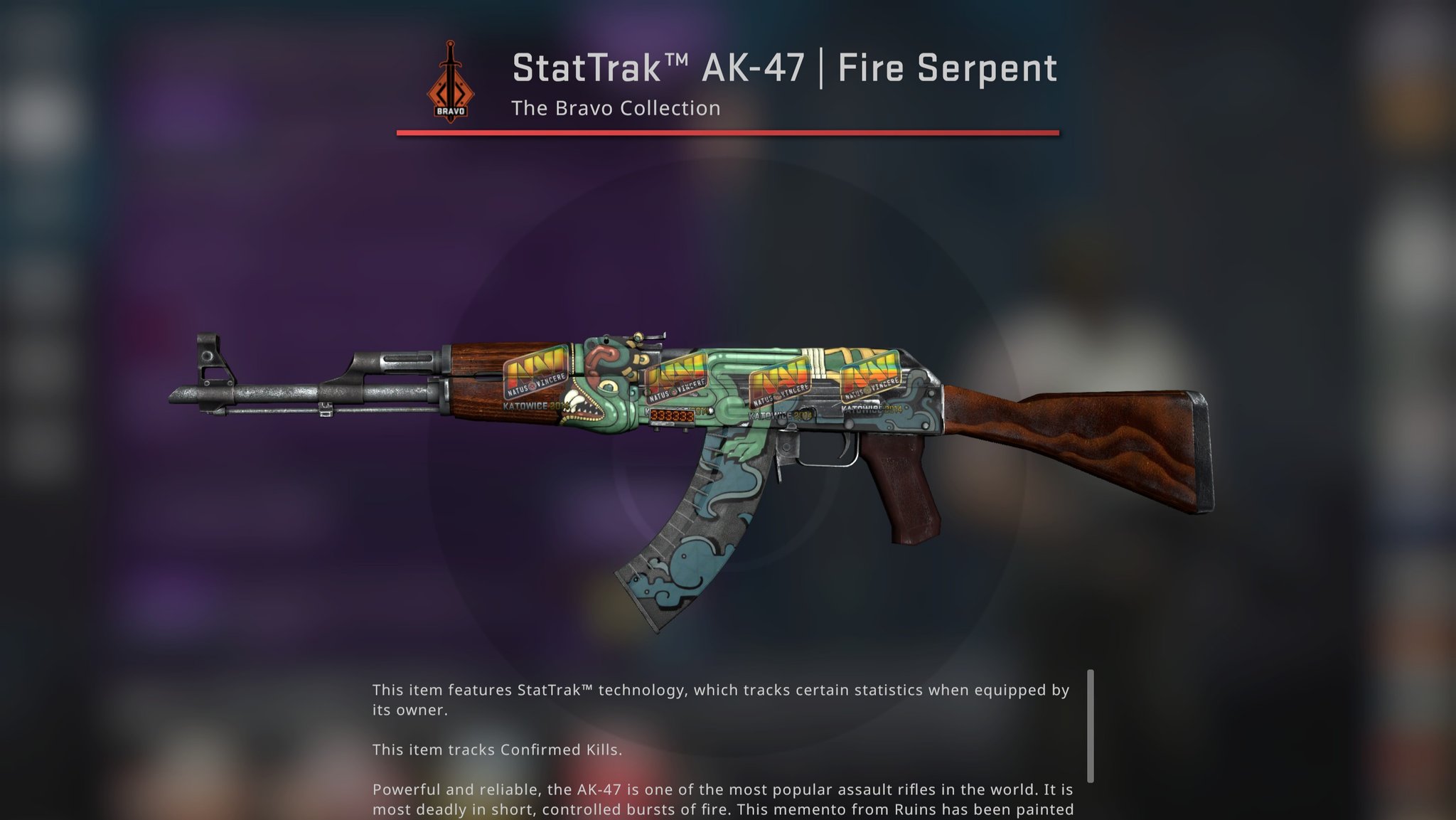 The Fire Serpent is one good-looking piece of art. It is a must to own this skin if you CAN. I would not miss out on this skin if I was a rich guy. This skin has a fabricated dragon on the end of its muzzle. You can also see the tiny little legs sitting on the magazine. In my opinion, it's a quite cute representation of a dragon. It's also available as a StatTrak exclusive. The default skin is starting from $405 and StatTrak has a listing of $847. It is also available in Operation Bravo Case.
2. M4A4 / M4A1-S
The most popular weapon among the CTs as its an exclusive for them. Also, it's a must to have skins for these particular weapons. These guns have quite a lot differences among them. Like the 'S' indicates as silenced which ultimately reduces damage scale but also improves recoil pattern of the gun. M4A1-S is also 400$ cheaper than M4A4 which impacts your team economy too. Choose Wisely!
This skin screams out its name out loud. Personally, I love this skin. It looks very premium and aggressive to play with. It's one of those skins that automatically gives you aim-assist as a placebo effect. It is quite expensive, it has a starting price of $3155 and the StatTrak of $5800. It is also available as a drop-in Operation Broken Fang case.
Poseidon- this skin speaks for itself, the God of the Sea. It has a light blue tint which fits perfectly the underwater Sea title. It's also one of the most beautiful skins in M4A4. It has a starting price of $832. StatTrak is not available for this skin.
Welcome To The Jungle | M4A1-S
This skin is covered with a viper painted whose background is contained in a jungle. The whole background is painted red, pink, and purple. StatTrak is not available for this skin. It has a starting price of $786.
3. AWP
The AWP is known all over for the skill it requires to control it by the player. It is quite a lethal weapon with one shot one kill.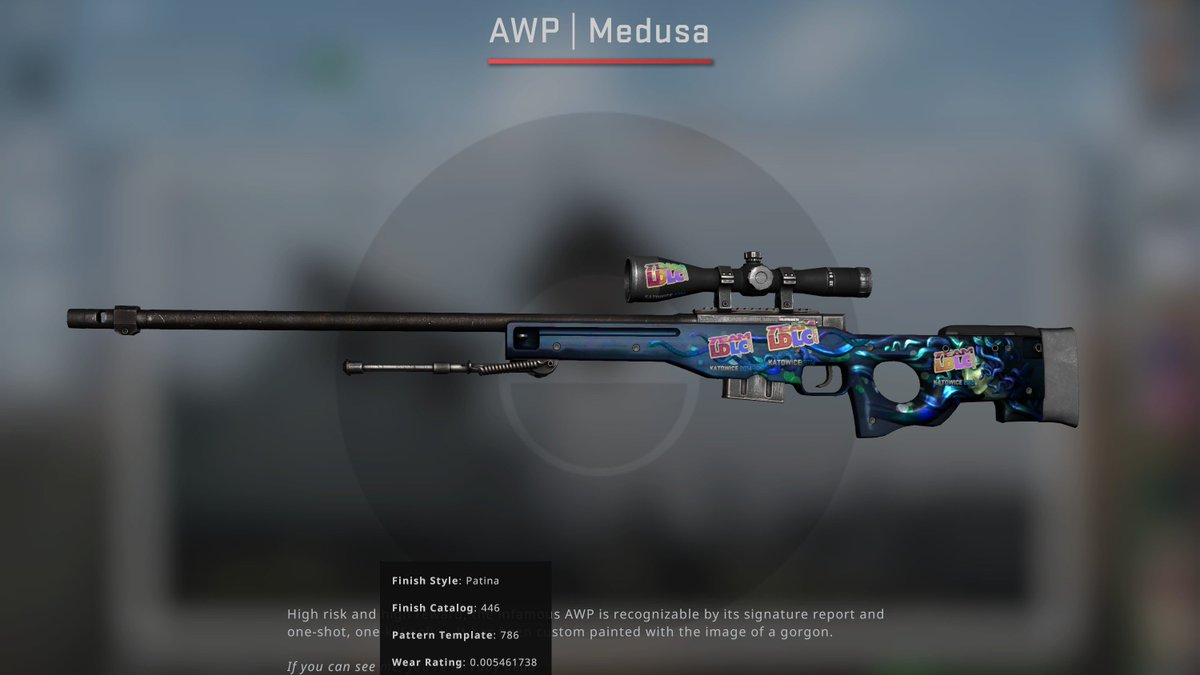 This AWP is beautifully painted blue and has a picture of a mythological creature- Medusa Gorgon, which basically adorns the rifle even more. It is an absolute must to add this skin to your inventory. It has a starting price of $1752 on the Steam Market. Unfortunately, it's only available in operation drops.
This is the only thing that everyone wants. I am not even kidding right now. The sheer amount of beauty this skin holds is holy. It has a starting price of $2620 and as a Souvenir, it is available for $11586.
4. SSG-08
The entry-level rifle that everyone talks about using has quite beautiful high-end weapon skins too.
The middle part of this skin is represented by a shark having its mouth open, chasing blood showing that it has its prey done for. The scope and stock have not been painted. This skin has a starting price of $40 and the StatTrak variant starts from $107. It is also available in CS: GO Weapon Case 2.
5. Desert Eagle
The godly one-tap weapon is here- also known as the 'Deagle'. To all those crispy headshots you can hit, with a little bit of spice of skins, you can gain much more satisfaction. Killing the awper on the opponent team with a Deagle is most satisfying part of the game, especially when the balls are not in your court. Turn an entire game favoring you with this gun. Widely used in eco or half-buy rounds. Insanely Dangerous!
The body of this gun is covered with solid black with an awesome fiery decal that is literally a feast to anyone's eyes. The starting price of this skin is $426. No StatTrak version is available for this skin. It would be awesome to see a StatTrak version of this skin. No cases drop this skin, it's only available from Operation drops.
Also check out previous article for Best Weapon Skins In CS:GO! Here